4 Seasons has customers throughout the upper Midwest and as far away as Colorado and Pennsylvania. Our customer base includes over half the FFA Chapters in Iowa, and several from Kansas and Missouri. We also work with a number of church groups, school groups, scout troops, non-school sports leagues, cheer/dance squads and other types of community groups. Every year, 4 Seasons helps hundreds of school and civic organizations reach their fundraising goals. Our growth has been a direct result of very loyal customers. The number of repeat customers has increased every year, some have worked with 4 Seasons since its inception in 1970. We are pleased and grateful that so many have remained confident in 4 Seasons Fund Raising.
To those who work with us and continued to be loyal, thank you. To those who are looking for a fundraising supplier with a reputation for customer satisfaction, please join us as we work together to reach your fundraising goals.
4 Seasons has been a fundraising company providing quality fundraising items to school and community organizations in Iowa and the upper Midwest since 1970. Lyle Roberts founded Flo-Tex, now known as 4 Seasons Fund Raising in the fall of 1970, brokering citrus fruit to FFA Chapters in Iowa from a small office in Des Moines. He coordinated shipments of orchard fresh citrus from Florida and Texas to neighboring FFA Chapters so they could provide their communities with fresh fruit. He soon added Washington State apples and a gift box of three natural cheeses that he called Goldfield's Pride after the cheese factory in Goldfield Iowa.
In 1977 4 Seasons moved to Norwalk, IA. This location offered cold storage for the cheese and apples as well as a place to coordinate deliveries. During the early years, the need for variety lead to offering more gift boxes, cold pack cheese cups, cheese spread and a variety of meats. Candy and nuts appeared in about 1987 and the addition of brochures and programs has grown since then. Due to the company continuing to expand in 2013 4 Seasons moved to their current location, still in Norwalk, IA.
In 1993 4 Seasons added both frozen food and a number of complimentary programs that contain seasonal, gift and novelty items. The program was very well received due to the ease and convenience of pre-packed student orders. This has truly strengthened our position in the fundraising community. We are now able to offer a wide variety of programs to meet the growing needs of school and civic organizations.
4 Seasons became an independent Rep for WFC in 2009. Family owned and based in Chicago since 1949, World's Finest Chocolate prides itself on being one of nine American companies that manufacture chocolate directly from the bean. The most modern machinery, dedicated employees and the finest ingredients allow us to consistently deliver the perfect balance of flavor, texture and color. To maintain this balance, each of our products is made with an exclusive blend of premium ingredients that all chocolate lovers will enjoy. Our chocolates come in many different styles such as bars, individually wrapped pieces and panned items.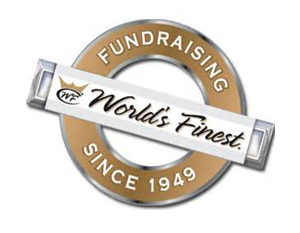 4 Seasons level of quality service allows our partners to concentrate on creating lifelong experiences.
Treat everyone with respect
Honesty & integrity
Work hard; hard work beats talent
Energetic
Committed
Determined & Persistent
Team Player
Do not live in fear
Enthusiastic
Tenacious and competitive